Submitted by
Sara
on 29 July 2009 - 12:07pm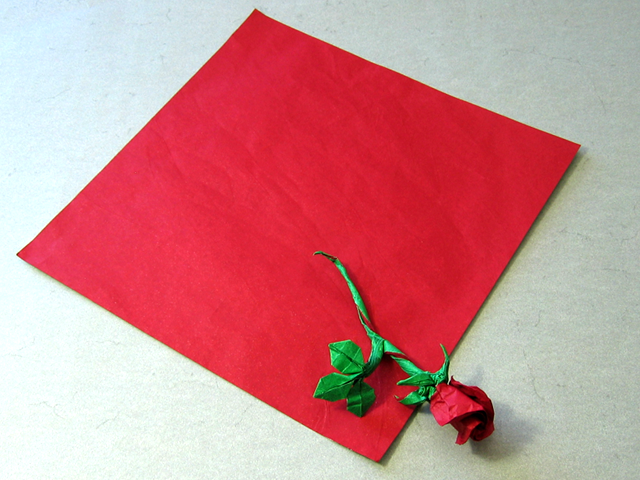 This picture shows two first-tries.
I made tissue foil using white glue for the first time. The picture shows both sheets I made, one of them I used for my first fold of Brian Chan's rose.
Making tissue foil
I'd tried making tissue foil with spray glue before, which - even when doing it outside - smelled quite toxic. I think I also chose the wrong spray glue back then, which resulted in tissue foil that was too thick and the glue lumped when you creased the paper.
So today - white glue. I used Metylan Ovalit T, a glue for heavy wallpaper that is transparent when dried. I thinned it down by quite a bit, because I needed light paper. I'd say the ratio was maybe 1 to 1. First I rolled some foil on a picture frame, any smooth surface that's easy to clean will do. Then I applied the thinned down white glue on the foil using a foam paint roller. Next I rolled the red tissue onto a cardboard roll (wrapping paper is often sold on those rolls), and then rolled the tissue onto the foil. This prevents you from getting too many air bubbles. I then used a cloth to get rid of the air bubbles that did sneak in. Finally, I turned over the tissue paper and did the same thing on the other side, just this time using green tissue paper. Finally, I removed the tissue paper, attached it to the window sill and let it dry there. After cleaning the picture frame I checked the paper and it was basically dry already. So all that was left to do is cut some squares from it - I cut two 28.25cm squares from it. I didn't have the right template size at hand, so I aligned two of them, hence the strange size.
It all worked really well, and I was surprised by how thin the tissue foil turned out to be.
Folding the rose
Of course, using very thinned down glue did mean that while folding I had to be careful that the layers didn't separate again. Thankfully, Brian Chan's rose doesn't have too complex procedures in it. But I think the paper was still not thin enough for the rose to reach its full potential. Maybe using tissue paper with two - or even just one - layer would deliver the desired paper weight. But I only have tissue that bleeds, so I can't make red/green tissue paper with it. And I did want to have that colour change effect in the finished model.
I'm pretty happy with the finished rose, given that it's my first fold. The diagrams are very clear, but I'm not sure I love the model as much as I want to. It's just so many layers of paper stacked on top of each other in the stem. And the rose itself essentially consists of four flaps that you shape to taste. Still, it IS a beautiful model, and I applaud Brian Chan for having met the challenge of folding a rose including stem and leaves from a single sheet of paper. And you can add thorns if you use a slightly modified crease pattern, which he provides at the end of the diagrams.
Paper: 28.25cm square of tissue foil
Model: 16.7 cm long