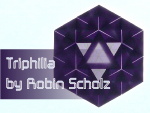 In each "Your Origami Folds" video, I'll show photos of folds you completed following one of my videos.
Theme for December 2015: "Triphilia" discovered by Robin Scholz
Deadline: December 12th 2015 (Publication date: December 19th 2015)
To take part, simply fold the model in question, take a picture, and send it to sara@happyfolding.com. Please do not add text to the photo, but do send me details to include while showing the picture - for example your name, the country you are from, and which paper you used. Plus, be sure to include a statement allowing me to use the photo in one of my videos. The preferred resolution of your pictures is 1920px by 1080px (landscape), but I can make other resolutions work, too.
I look forward to seeing your fold!
Submitted by
Sara
on 1 October 2014 - 7:00pm
Today it's my pleasure to announce the new version of happyfolding.com. The site launched exactly seven years ago - on October 1st 2007. And the design stayed essentially the same throughout. But in the last seven years, the site has grown and the web has changed. For example, I browse a lot on my mobile phone nowadays - and I know so do many of you.
Submitted by
Sara
on 3 August 2014 - 4:59pm
It's a pleasure to let you know that there are four new diagrams available on happyfolding - a key, a shrimp, a quaver, and "setting sail" - a sailboat with waves - all by Joseph Fleming. You can download the diagrams from http://www.happyfolding.com/diagrams?designer=614. Enjoy!




Submitted by
Sara
on 20 September 2013 - 4:26pm
I attended the British Origami Society Convention Autumn 2013 that was held in Edinburgh, Scotland end of August. It was a blast!
Here's the report I wrote on it with details and pictures:
http://origamiusa.or...

Enjoy the read!