Submitted by
Sara
on 9 July 2009 - 11:47am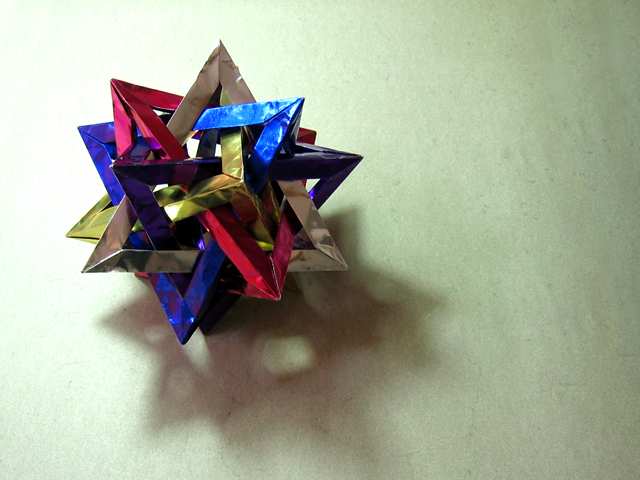 I recently moved, and my previous Five Intersecting Tetrahedra (FIT) wasn't treated as well as it could have been. After that it lived on the window sill - stupid idea! Shortly after it rained quite hard, and the window sill - including my FIT - was soaked.
Back when I folded it first, I wasn't sure I'd ever fold it again, because it was tricky to assemble. But with my previous one having retired to the recycling bin, I decided to give it another go. I'd always wanted to fold one from foil, so at least deciding which paper to use was easy. After cutting lots of squares (ok, 10) and dividing them into thirds the fun was about to begin.
Interestingly enough, it was rather ... easy to make. The modules were as easy as ever, but incredibly I had no problems with the assembly. The locking mechanism worked like a charm (not so the first time), and I understood where to put the next tetrahedron (really not so the first time - my boyfriend had to help out in the end). So here's to giving a previously frustrating (but still incredible) model another chance. Maybe you'll find it's not as much of a hassle to complete the second time round.
Paper size: 30 strips of size 17.55 cm x 5.85cm, foil-paper-foil sandwich
Finished model: approx. 20.5cm diameter