Submitted by
Sara
on 12 June 2012 - 12:27pm
Model type:
Birth / Baby Shower
Modular
Objects
Occasions
Paper ratio:
US Dollar Bill (2.61 : 6.14)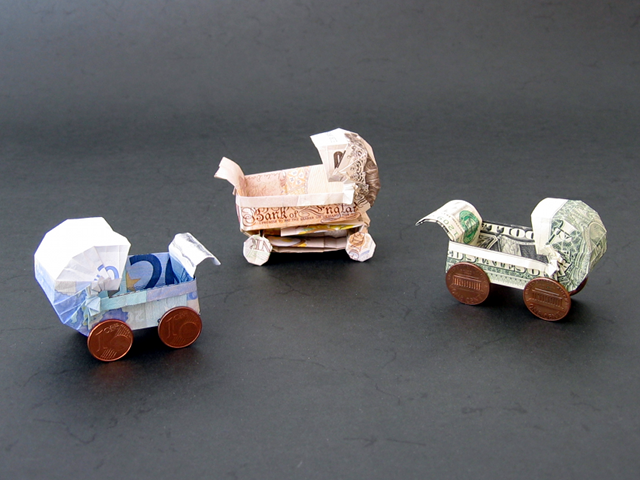 Good friends of ours are expecting their first baby. Knowing that it's hard to find just the right present (without giving something they possibly get from someone else) we figured it might be best to give them some money. So I started searching for a nice money fold - and found this one. Isn't it lovely?
It works with different currencies, as it doesn't depend on a specific aspect ratio of the starting sheet of paper. Anything somewhat close to 1 by 2 will do.
To prove the point, I decided to check what currencies I had in the house. The result is a pram from a 20 EUR note (plus coins for the wheels), one from a $1 bill (plus coins for the wheels), and one from three 10 GBP notes. Obviously, I could have folded the wheels in all currencies, but I didn't have three 20 Euro notes at home, and once I folded the US Dollar I was running out of time, so made do with coins there, too.
I also had 20 Swiss Franks, but unfortunately only one note, and no coins. Else there might have been a fourth in the lot.
Left: 20 Euro note with four 1 Cent coins for the wheels
Middle: three 10 GBP (one for the pram, two for the wheels)
Right: 1 US Dollar bill with four 1 Cent coins for the wheels