Submitted by
Sara
on 9 February 2009 - 2:44am
Model type:
Mother's Day
Wedding
Valentine's Day
Flowers & Plants
Occasions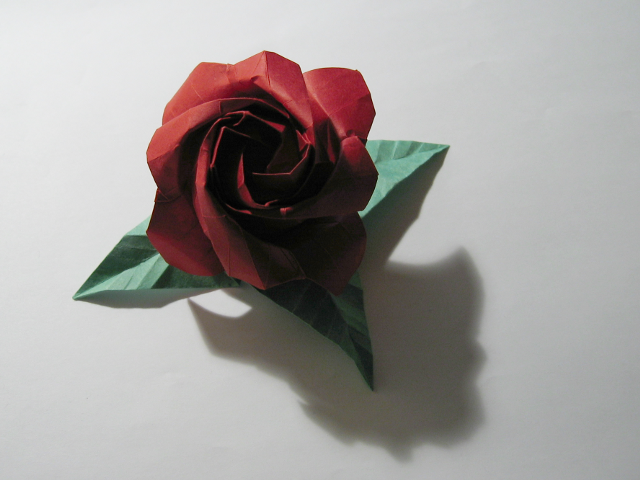 I decided to give Phu Tran's rose a try today. Here's a picture of my first fold. I still have to work on the finishing touches, but I'll have to ponder on what those finishing touches should be.
This rose is a variation of Kawasaki-san's new rose. I fear Phu Tran hasn't found the time to diagram his model yet. But if you know how to fold Kawasaki-san's new rose, you're almost there. The crimps that round the rose are farther in the center, and some extra folds are added to form four additional petals.
I've found the locking mechanism not to be quite as stable, and a bit harder to establish than with Kawasaki-san's rose, but do think that the shape of Phu Tran's version is more beautiful. Of course, the "original" is already beautiful in itself.
Rose:
Paper: 19.5cm square of stiff paper, 115gsm
Finished model: ~5cm height, 8.5cm diameter
Calyx:
Paper: 15cm square of Kraft paper, 80gsm - obviously too big for the rose
Model: just a simple bird base