Submitted by
Sara
on 1 May 2017 - 4:54pm
Good news, I've published two new articles in OrigamiUSA's online magazine, TheFold.
The first is a quick review of how my video tutorials have changed over time: https://origamiusa.o...
I think it's really nice to revisit how things have developed in the close to 10 years I've been at it now.
The second article is a review of a new origami book, featuring the beautiful work of 21 very different origami artists: https://origamiusa.o...
Beware, after you read the review, you might just have to buy it or add it to your wishlist. :)
Finally, a big thanks to blog.feedspot.com, who featured me in their article on the top 30 origami blogs out there. Hey, they even gave me an e-medal: :)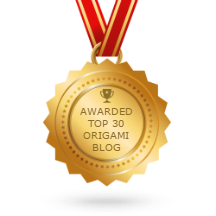 Hope you enjoy the reads and, as always, happy folding,
-- Sara