This page lists pointers to appearances of happyfolding.com and Sara Adams' origami work in the media.
July 2014: New York Times

On July 10th an article by Robert Ito titled In Time-Lapse Videos, the Magic Unfolds: Online Origami Tutorials Eclipse the Traditional Manual was published. He interviewed both Robert Lang and myself for the article - what an honor!
February 2011: Reuters global news agency

On Februrary 21st Ben Gruber, Reuters, reported on origami. The video features Robert Lang, as well as my time-lapse video on the folding of a scaled koi. See it here: https://www.reuters.com/video/2011/02/21/ancient-art-of-origami-goes-digital?videoId=189131029&videoChannel=1004
February 2011: West Hawaii Today daily newspaper

On February 13th Lisa Marie Dahm published an article on origami in the Special to West Hawaii Today. Deb Pun Discoe, a friend of mine, was interviewed for this article, and she gave me a shout-out:
Though there are few classes available regularly in West Hawaii, Pun Discoe said that you can buy a modern origami book or get one from the public library. She said that there are also free designs available online. She also recommends watching You Tube videos that offer instructions, especially those done by Sara Adams who also has a website, happyfolding.com.
Read the full article here:
http://westhawaiitoday.com/articles/2011/02/13/features/features01.txt
October 2010: Sciences et Avenir print and online magazine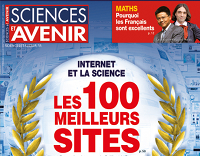 In the October issue of Sciences et Avenir (print and online), they featured their 100 best sites. Happyfolding.com made into their top pages and was categorized as a creative site.
They said:
Une mine pour s'initier ou se perfectionner à l'art du pliage de papier. Vidéos très pédagogiques (en anglais).
which roughly translates to:
A mine for learning or perfecting the art of paper folding. Very educational videos (in English).
January 2010: The Independent online newspaper article

In the arts section of The Independent website, happyfolding was listed as the top origami and paperfolding website. They said:
This week's selection of art websites includes five websites that show you how to create your own paper art.
1. Happy Folding - happyfolding.com A website dedicated to the art of origami. Everything you need to know about folding paper including video 'how to' origami tutorials, an origami dictionary, folding diagrams, plans that you can print out, a large online origami gallery, and news articles about origami.
[...]
July 2009: KNLS radio program
Eye on the Web is the KNLS radio program sponsored by sculptor Kevin Caron. It features wild, wacky and truly wonderful websites. They said:
It all starts with a single sheet of paper. Then you can take it from there on the origami site Happy Folding. As you probably know, origami is the Japanese art that lets you create everything you can imagine - and some things you can't - simply by folding pieces of paper. Site owner Sara Adams explains that she got hooked on origami in 2005, and she suspects, after some time on the site, you just might get hooked, too. Browsing through the many photos of and instructions for paper rats, flowers, birds, pregnant women and even a ninja, you just might. There are step-by-step diagrams to show you how to make some of these creations, instructional videos you can sort by difficulty, type of paper and other parameters, a gallery, a dictionary and links, all celebrating what you can make with a simple sheet of paper.
June 2008: Nokia Free Hands Challenge
Nokia launched a Free Hands Challenge with the theme Don't waste those talented hands. Make a hands free video to share with the world – and you could come away with your hands full. I was asked to make one of the feature films, as well as be one of the six supremos, i.e. the judges that decided which video creator won the challenge.
May 2008: Cherwell newspaper article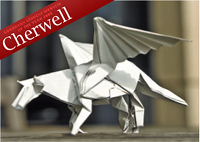 The Cherwell, an Oxford student newspaper, interviewed me for a 2-page feature on origami called Living on the Edge of a Paper Model. Here's the first paragraph of the print version:
Today I caught a butterfly with my bare hands. Searching among scraps of paper, I came across a veritable jungle of origami: lions, roses, dragons, elephants and scorpions tumbled out of Sara Adams' cardboard box, to crouch on the grass of Wadham gardens.
You can
view the full article (pdf) here
. I also added some notes on the article at
happyfolding.com/blog-in_the_newspaper
.