Submitted by
Sara
on 1 October 2014 - 7:00pm
Today it's my pleasure to announce the new version of happyfolding.com. The site launched exactly seven years ago - on October 1st 2007. And the design stayed essentially the same throughout. But in the last seven years, the site has grown and the web has changed. For example, I browse a lot on my mobile phone nowadays - and I know so do many of you.
That's why I decided it was finally time to reorganize the content a bit, and make the website responsive. The old design, unfortunately, wasn't suited for that, which is why I started fresh. With the new layout happyfolding.com should now look good on different devices and at different resolutions - be it on your desktop, a tablet, or your mobile phone.
An image perhaps better explains what I mean by "responsive" and looking good on different devices. Here's what the old front page looked like on a desktop, laptop, tablet, and mobile phone: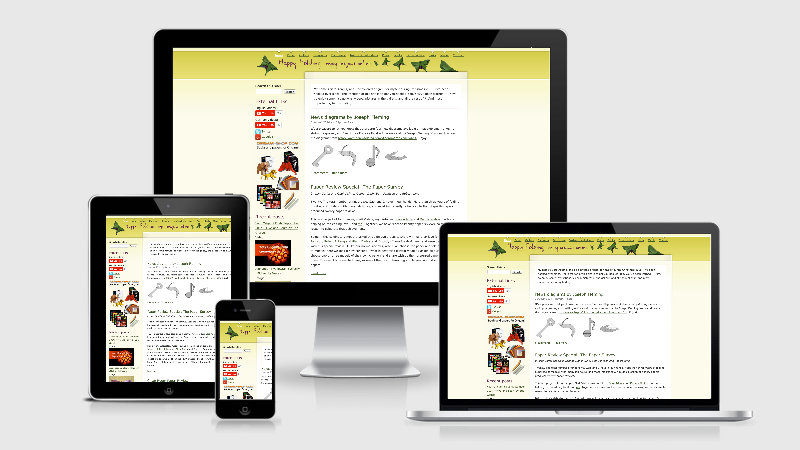 Notice how on smaller devices the content was simply cut off? Now, with the new design, the content adjusts and is just as accessible: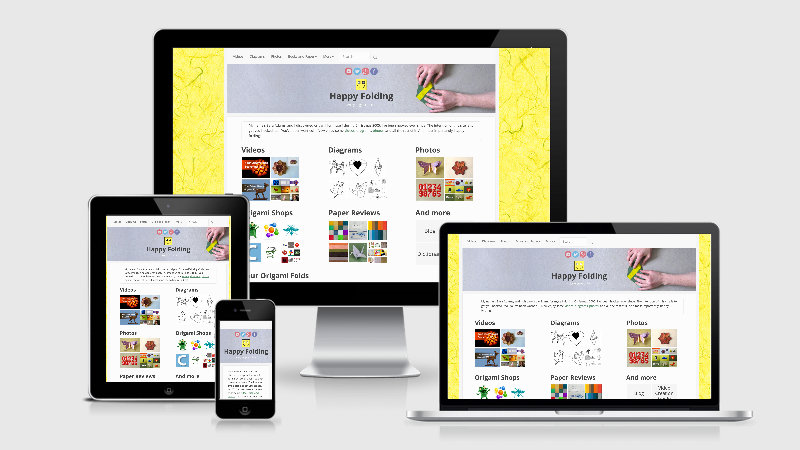 I do hope you enjoy the new look and feel. Let me know what you think!
And because just having a new look and organization isn't enough, I also decided to add a little extra content. Notable, there's now a page listing a bunch of origami online shops and the video creation guide I published with OrigamiUSA's The Fold in 2010/11 is now also available here. I do hope you enjoy the new content, too, and find it useful.
Finally, I'd like to share the new happyfolding logo with you. I designed this little dude wanting to capture both "happy" and "folding". Did I succeed?