Submitted by
Sara
on 31 December 2011 - 10:53am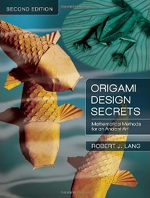 Today I finally got round to adding most of my new origami book acquisitions of the last half year. Amongst them is also "Origami Design Secrets, Second Edition" by Robert J. Lang.
As someone asked whether it was worth the buy if you already had the first edition, I figured it'd be helpful to point out some differences and my thoughts on the question.
The first thing you notice when holding the second edition is that it's heavier. That's no surprise, as Robert Lang made some substantial changes - much to the joy of many origami enthusiasts. The first edition impressed with 594 pages full of high-quality content going into techniques, mathematics, and folding instructions. The second edition tops that by an extra 176 pages, an extra 30% of content! It's noteworthy that chapter 14 on algorithms (10 pages) from the first edition was removed in the second edition. While very mathematically inclined may have enjoyed the mathematical formulas and very theory-heavy chapter, I believe for most origami enthusiasts the tradeoff of removing this chapter to make space for other content was a good one.
Now you'll probably be interested to know what's packed into those extra 186 pages (176 + 10 due to the removed algorithms chapter). Here's a quick overview:
Chapter 7 has more detailed instructions for the scaled koi.
Chapter 12 on box pleating was greatly expanded.
Two new chapters on uniaxial box pleating and polygon packing were added.
Four new diagrams for a dancing crane, a silverfish, an elk, and the well-known organist were added.
12 crease patterns were added (in the chapter on polygon packing).
Small errors were corrected and a new color scheme was chosen for more clarity.
Altogether, this wealth of new content definitely makes it worth buying the second edition - even if you already have the first edition. As to if you don't have either edition: I'd recommend going for the second one.