Submitted by
Sara
on 7 September 2013 - 6:33am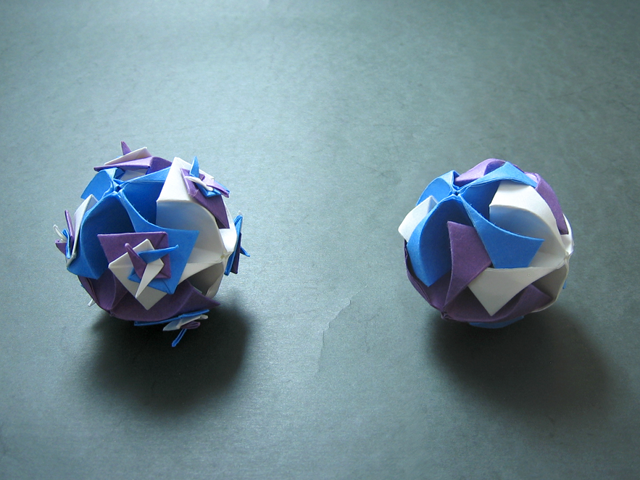 Paper: 6 square sheets of Kraft, 15cm / 6in, 80gsm, blue/white/purple
Model: sphere with a diameter of approx. 6.25cm / 2.5in
At the BOS Autumn 2013 Convention last weekend this model immediately struck me. Only later did I find out it was one of Kawasaki-san's new designs. Apparently many others fell in love with it immediately just like me, because the next day Kawasaki-san taught it in an unplanned workshop.
I knew I had to fold it a second time as soon as possible. This is it!
Only during the workshop did I realize that this model has a twist - literally. The left and right model on the above picture are actually the same one - just before and after the final step. Who would have guessed?
Love it!
(I am unsure of the correct translation of 鎧玉, which is what the model is called in Japanese. I'll try to find out what Kawasaki-san wants it to be called. Also feel free to correct me if "Armor Ball" is totally off.)