Submitted by
Sara
on 5 October 2010 - 7:42am
Review of the paper used: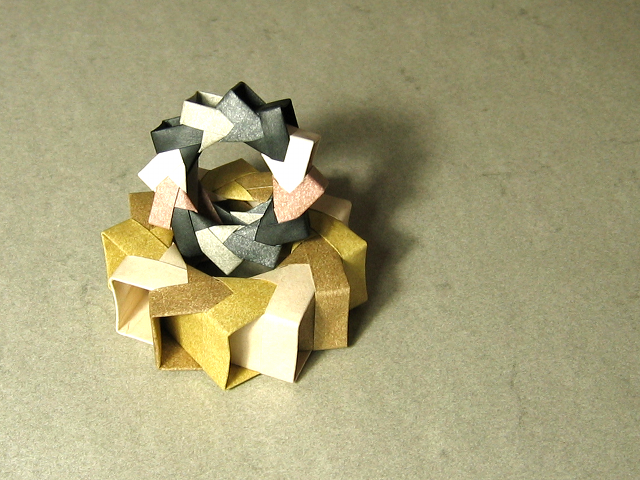 Paper:
small ring: 12 sheets of 5cm squares, elephant hide
larger ring: 12 sheets of 7.5cm squares, elephant hide
Models:
small ring: height of 1.35cm , diameter of 5cm
larger ring: height of 2cm, diameter of 7.2cm
What do you do with some "scraps" of left-over elephant hide? Exactly, cut some small squares from it, and fold Mette's Ring. Actually, this is a small variation. Rather than making the ring quite 2D (as suggested in the diagrams), I followed Dáša's advice and folded this variation. In essence, rather than folding the module in half in the last step, you broaden that one crease to a wider area. And, as it turns out, Paolo Bascetta published this variation in his book. :)
By the way, this image shows all the shades of elephant hide I have.
In the small ring I used: bright white, light gray, dark gray, black.
In the larger ring I used: white, chamois, light brown.
For the backdrop: light gray.
Ah, probably worth mentioning: at this size the elephant hide was quite thick. I made good use of my bone folder instead of ruining my finger nails.