Submitted by
Sara
on 25 October 2009 - 6:03pm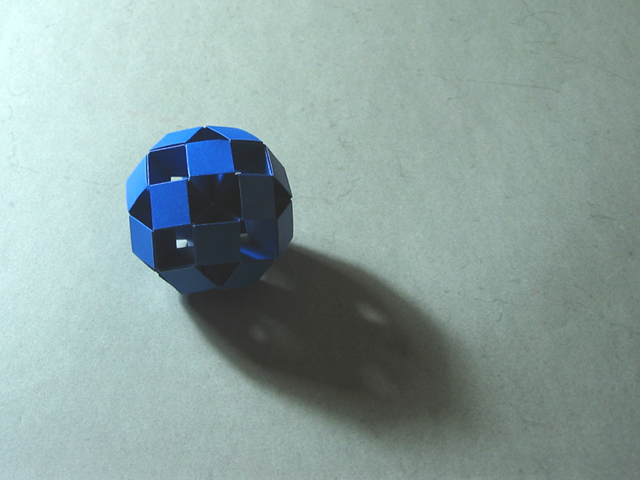 I looked through the newest BOS issue today, and discovered that Heinz Strobl contributed diagrams to his rhombic dodecahedron. I decided to give it a try.
Which means I first had to cut lots of paper. 24 strips with ratio 1 by 2, 24 strips with ratio 1 by 5, and 12 strips with ratio 1 by 8. Ugh! Then some boring folding, which are much easier using Heinz's suggested "tool" (another strip of paper), and finally assembly. Altogether it's not a hard model to complete, but it requires patience. Making this model brought a bit closer how much work Heinz Strobl puts into his large creations. Admittedly, I found the cutting to be the most tiresome part, and I know that Heinz has rolls of paper, so that he only needs to crop to the right length. That should save lots of time (i.e. the time I needed for making strips in the first place).
Altogether I think it's a very pleasing model. The diagrams focus on the assembly, and they are, while relatively minimal, absolutely sufficient. And that's from someone who's known to curse when assembling most modulars. Talking about modulars, this piece is modular in that you need several strips, but the modules are quite different. I'd say the 1 by 8 strips are similar to modules, the 1 by strips are hinges, and the 1 by 2 strips are stabilisers, as well as cover-ups for some of the raw edges. Heinz calls this kind of work snappology, somewhat in contrast to his knotology.
Paper: 24 x 1.8cm by 3.6cm, 24 x 1.8cm by 9cm, 12 x 1.8cm by 14.4cm, blue Korean origami paper (relatively heavy, doesn't like being creased too much - i.e. horrible for most projects)
Model: sphere with a diameter of approx. 7.5cm