Submitted by
Sara
on 13 October 2009 - 4:18pm
Designer:
Fujimoto, Shuzo
Budai, Peter
Model type:
Tessellations and Fractals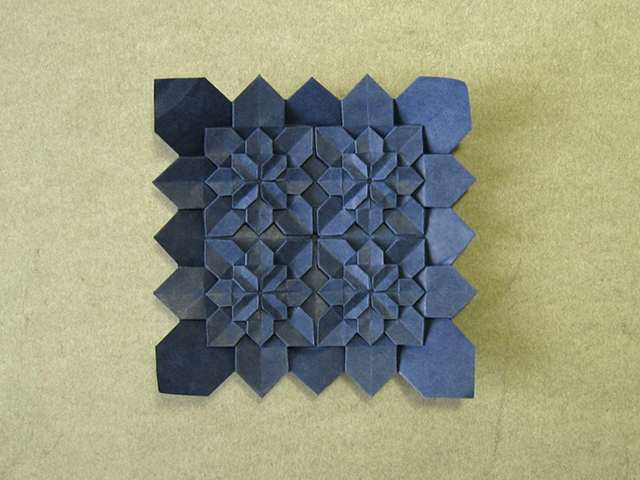 Paper: 22.7cm square of Pacon paper
Model: 9.8cm square
Someone contacted me asking how to tile the hydrangea, as seen on http://www.flickr.co...
I decided to give it a go and managed to work out how this could be done. Admittedly, my first attempt failed, but the second one worked out. Later I found a comprehensive description of the technique written by Peter Budai. He calls this tiling "high density", and also gives instructions for low and middle density.
The basic technique for high density tiling is as follows, and is the text I wrote back to the person that asked in the first place. It somewhat summarizes what Peter Budai nicely diagrams.
Essentially, you want to fold 4 hydrangeas on a square. Each hydrangea will use 4/7th of the square. So adjoining hydrangeas will share 1/4th in the middle. This is why in the middle of the completed model the outermost petals are "missing". Hence the folding sequence is as follows:
Make a 7 by 7 grid on a square.
Make the necessary precreasings for hydrangea on each of the corners, assuming a square consisting of 4/7 by 4/7.
Collapse all four hydrangeas at the same time (go through them one by one, making them partially 3D, then collapse - a bit trickier than doing a single one).
Work on each hydrangea tile individually, just like you only had one hydrangea on a square. The steps are identical from here on.